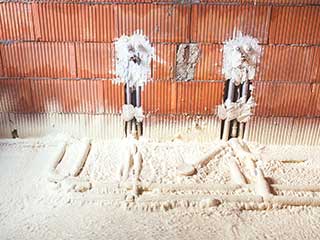 What Is An Air Sealing?
You might not have ever heard the term before or know why it could be beneficial. Simply put, it means that an expert will test to find all cracks, holes, and otherwise in your attic that are allowing air to escape and use a special expanding foam in order to get them completely filled, thus sealing the attic. It's an additional layer of protection to help your insulation keep your home more energy efficient, and the temperature more comfortable. These spots can crop up in numerous ways, from wear and tear over the years, to simply an error in manufacturing. No matter the case, however, it's a good idea to get them patched up!
Why Get The Service?
While you may have many other projects that your home needs taken care of, and not feel a few cracks are all that important, they are! While only a little air gets out at a time, it still adds up if it's left to continue. Any amount of air that escapes your house instead of circulating to help keep the temperature stable means that your heating or air conditioning have to run for longer to make up for it. Hence, more energy is used, and more money is wasted. It also means that you can have fluctuating temperatures in certain rooms of your home. If you notice a rising bill, or these issues with the temperature, you might want to consider having someone take a look.
We Can Help You!
Our professionals use only the best tools and materials available to find every leak in your attic, even in those hard to reach spots, and get them completely filled up. After we're done, your attic will be air tight, and you'll be surprised how much you save! It'll last you as well, so you won't have to worry. It'll all be over quickly and efficiently too!
Contact Us Today!
Call Attic Cleaning Laguna Beach, and let us help get your home saving more energy and comfortable today!