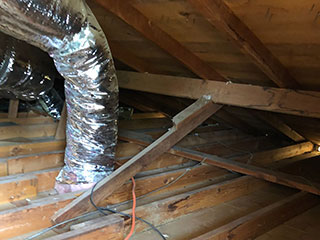 The crawl space isn't the most popular area in the average house – at least not for the people living in it. Often times it's a great home to pipes, ducts, vents – and mold, dust, debris, bugs, mice, rats and more.
There Are Rats In My Crawl Space – Help!
When there's a strange smell around the house and you can't seem to locate its source, or small droppings seem to come out of no-where – the crawl space should be your prime suspect! Let our team be your special investigators, to be on the safe side. Wearing protective gear, equipped with traps and proofing equipment – we'll scan every corner, set the traps, and seal any cracks or holes that were used to gain entrance to your home. After our suspects have been caught (every single one), they will be removed. That's right – no poison involved. But our job is not over!
Professional Cleaning & Sanitization
It's not enough to remove the rodents, even if the crawl space is properly sealed from future invasions. There are droppings mixed with dust and debris, and these are never good for your health. This is where our job continues! We'll thoroughly clean every nook and cranny, making sure your crawl space will be fit to actually crawl into. We will finish with sanitizing the area, using only safe solutions of course, in order to make sure no bacteria are left behind.
Count On Us For Professional Repairs As Well!
As mentioned, crawl spaces are often neglected – and as a result, small cracks in the wall, a broken old vent, or a tear in one of the ducts passing through can all be a great opportunity for rodents, bugs, and other crawlers to sneak inside. We can help fixing, patching, and rodent-proofing every corner of your crawl space.
The Best Team Around – At Your Service!
Be it for your attic and crawl space at your home or business place, Attic Cleaning Laguna Beach is always at your service. We make it a point to make sure our customers always get the best in terms of quality, service, and prices. Give us a call today!