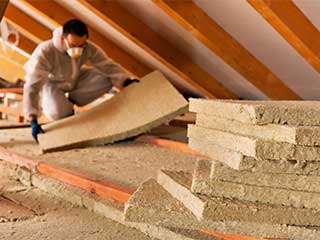 You may not be aware of this, but of all the places in your house, the attic is most susceptible to the loss of cool and hot air throughout the year. It's the place that rarely receives much attention but plays a vital role in regulating the temperature of your home. At Attic Cleaning Laguna Beach, we are committed to providing only the top-notch attic insulation services to our customers.
Insulation replacement
If you notice your insulation is damaged by rodents, mold, or time, a professional insulation replacement service may be due. It is always wise to leave this job to a professional team instead of handling it yourself, as you could worsen the problem.
Insulation removal
Removing your old attic insulation can be can be a very difficult, labor-intensive, and dangerous process. The last thing you want to do is improperly remove your insulation, or spread the contaminants around your home as you're getting rid of the old material. Hiring a professional team to deal with insulation removal is in most cases highly recommended.
Air Sealing
When we install your new insulation you can rest assured you will be saving the maximum amount of money on your monthly energy bills. Among other reasons, this is due to insulation acting like a windbreaker and stopping the cold air from reaching the interior of your home. The thermal insulation will depend greatly on the material you choose, but we will install whichever insulation you pick in a manner that seals all air gaps and cracks. By doing this, we will keep the heat and cool air inside your home during extreme weather.
Radiant Barrier Installation
We provide excellent radiant barrier installation services to homeowners who are looking to slow down the rate at which warm air leaves their home. The radiant barrier reflects direct heat from your home and keeps it more energy-efficient.
In addition, count on us for:
Crawl Space Waterproofing
Mold Removal & Prevention
Attic Restoration & Animal Waste Removal