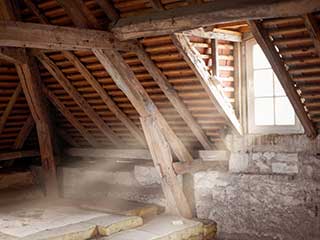 What's The Importance Of A Cleaning?
An attic cleaning does more than just clear out the dust that's built up over time, it helps to protect your home from issues caused by your attic being dirty. Dust can make your attic the perfect hide out for pests, like insects and rodents, and both can do a lot of harm to the area and the rest of your home as well. Rodents in particular will gnaw on wood and belongings, tear up insulation to use for nesting, and their waste itself is contaminated with diseases that can spread into your household. Mold is also troublesome, as dust may help make just the right environment for it to grow and begin to eat away at everything in your attic. Its spores are also a health risk if inhaled. However, the dust on its own is a health hazard, as air circulating through your home can pick it up, thus lowering the overall air quality.
What Should You Look For?
Aside from layers of dust themselves, also check your attic for signs of pests like droppings or greasy spots. Discoloration on wood or belongings means that mold is present, and a foul smell may also be noticeable. Outside of the attic itself, if you see that anyone in your home is struggling with harsh allergy symptoms indoors or are struggling to breathe well, this indicates that there is an issue with the air quality. Also, keep an eye on your energy bill. If it's steadily rising, your ducts may be clogged up with dust and forcing systems to run more in response in order to circulate air.
Let Us Take Care Of It!
No matter what the trouble is, our experts will be able to tend to it before you know it! We use the highest quality equipment available to ensure that all the dust and otherwise is safely sucked up and disposed of to prevent any further pollution of the air.
Call Us Now!
Contact Attic Cleaning Laguna Beach today! You'll be glad you did.
But wait, there's more!
Residential Attic Cleaning
Crawl Space Vapor Barrier
Rodent Proofing & Rat Control Services
Radient Barrier Installation